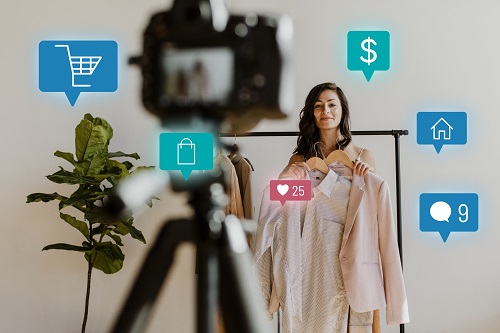 Boosted digitalization has led to massive usage of digital platforms. Digital platforms are being used by small business owners to large organizations to increase their brand's reach. In the initial years, we have seen many different ways in which digital platform was used. There were experiments carried on, different strategies were implemented, and many more things were tried and innovated.
There are many methods or ways in which online platform is being used but nowadays 'influencer marketing' is the new buzzword. Many who come across this phrase often ponder the term influencer marketing. Influencer marketing is a hybrid tool of online marketing. It uses both old and new methods of online marketing. Usually, people who do understand this term take in a way that they have an idea of celebrity endorsement and place it into modern-day content-driven strategies. But can we think about the other side too? Yes, definitely. Influencer marketing does not only consist of celebrity endorsements but also it is carried with different people who have the ability to influence people or their audience and followers to make them buy your services or products. Let's understand influencer marketing clearly and deeply here.
What Is Influencer Marketing?
Influencer Marketing involves a brand collaborating with an online influencer to endorse their product or service. Some influencer marketing collaborations are less tangible than that – brands simply work with influencers to improve brand recognition. Influencers, unlike celebrities, can be anywhere. They can be anyone. What makes them influential is their large followings on the web and social media. An influencer can be a popular fashion photographer on Instagram, or a well-read cybersecurity blogger who tweets, or a respected marketing executive on LinkedIn. Within any industry, there are influential people—you just have to find them. Some will have hundreds of thousands (if not millions) of followers. But many will seem more like ordinary people. They may only have 10,000 followers, less in some cases. Yet, they will have developed a reputation for being the experts in their field. They are the go-to people who provide the answers to people's questions. Depending on their sphere of expertise, they are the people who make the most engaging social posts on their specialist topics.
What works in Influencer Marketing?
Carefully consider your approach to influencer marketing
Be organized, put together a strategy, plan, and budget, spend time on research.
Decide on your approach to finding influencers – find them organically, subscribe to a platform, or work through an agency.
Be patient and be human – people talking to people, not companies talking to companies
Develop a schedule
Does the influencer prefer monthly/quarterly/biannual calls or newsletters?
Integrate with your PR schedule, product release schedule, etc.
Send emails on behalf of key executives. Plan travel schedules for executives and arrange face-to-face meetings
With traditional social media marketing, a brand can set up its identity on whatever platform it chooses, and as time passes and its follower bases grow, it can see who its brand champions are. These are the customers who like and share content or mention the brand itself in a post. Followers like these can be further nurtured through personal attention and as part of a highly segmented group of all the brand champions. Efforts to market to this group focus on ways to keep them spreading the word. One problem with this approach is that some of a brand's followers just don't have enough followers themselves to make much impact. In fact, most ordinary people on social networks don't. Most people have a small network of maybe a few hundred friends and associates representing all kinds of tastes and preferences. Meanwhile, brands struggle to curate and create content that they hope will resonate with their followers in some meaningful way while staying engaged with day-to-day interactions.